Print this page (instructions are below the map)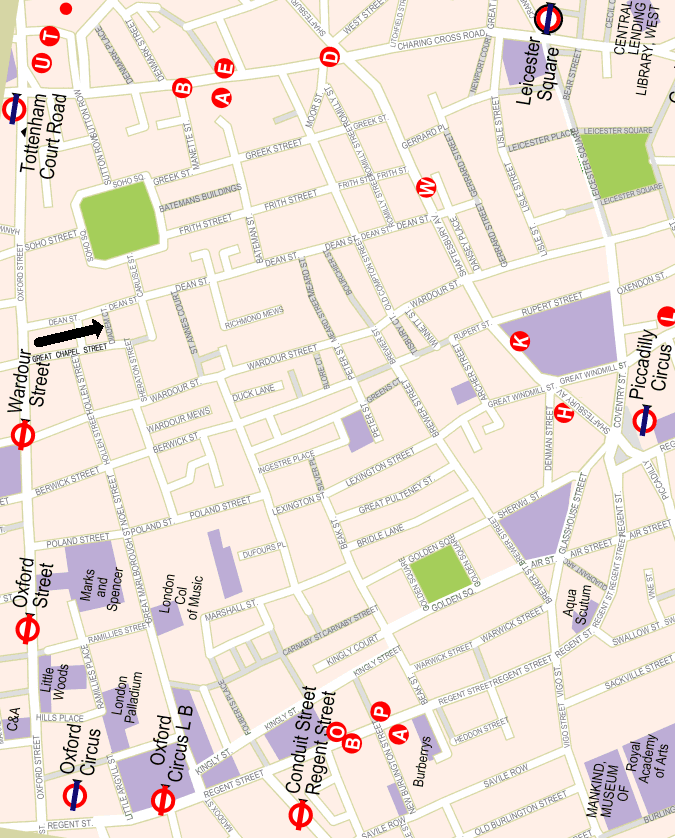 Directions to St Annes House, 3 Diadem Court, London W1D 3EF
By tube, walk from Tottenham Court Road or Oxford Circus along Oxford Street to Great Chapel Street. You will see the sign to Diadem Court 150m in front of you.
By tube, walk from Piccadilly Circus or Leicester Square to Shaftesbury Avenue. Turn up Dean Street at a zebra crossing opposite Chinatown. Walk up Dean Street a long way. Shortly after Pizza Express you get to a Pierre Victoire restaurant, opposite which is Diadem Court.
There are buses direct from Putney/Fulham (14), Clerkenwell/Angel/Islington (19,38,73), King's Road/Sloane Square/Battersea (19), Dulwich (176) and lots of other places especially to the east. Get out at Centrepoint (Tottenham Court Road station). Then walk along Oxford Street to Great Chapel Street. You will see the sign to Diadem Court 150m in front of you.
By car (difficult navigation and parking), you may be able to park in the roads north of Oxford Street, such as Gresse Street
For the quickest journey from anywhere in London, put our postcode (W1D 3EF) and yours into the London Transport Journey Planner
St Annes House is the building with the gate in front that looks as if it came from Lock, Stock and Two Smoking Barrels
There is also a full page map to print.

If you end up in St Annes Court you are in the wrong place and have probably been asking passers by because you are not confident in these directions. You need to head left along Dean St towards Oxford Street until you get to the Pierre Victoire restuaurant.